Open Source — Leading China's Technological Transformation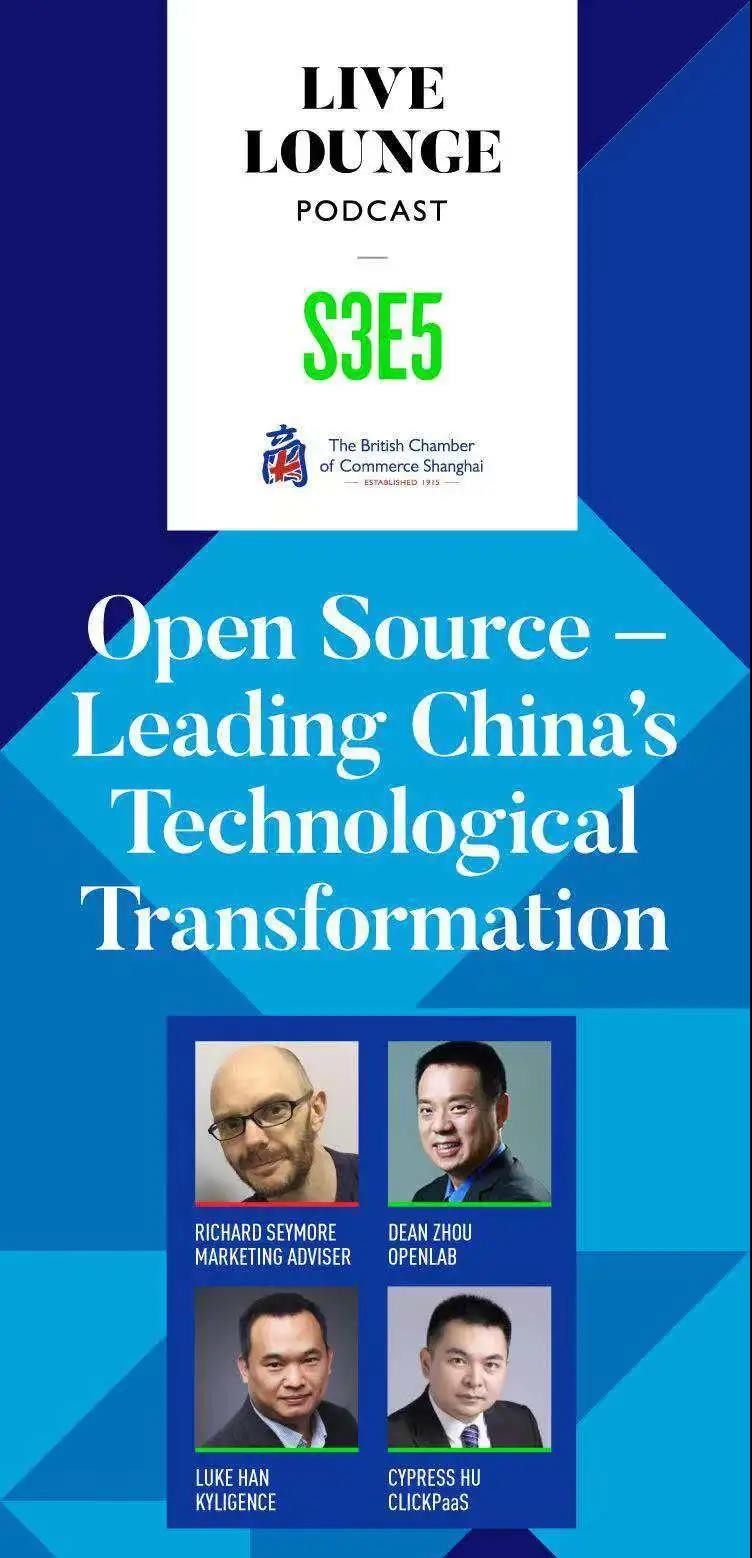 2020年11月12日下午三点,胡柏作为ClickPaaS爱湃斯科技的创始人接受了上海英国商会的采访。
此次采访由独立营销顾问Richard Seymore主持,采访主题为"Open Source — Leading China's Technological Transformation(开源-引导中国技术变革)",这一领域的三位专家参与讨论了开源技术在中国商业应用的最新趋势和影响。
首先,Richard问到了ClickPaaS的工作和对于开源技术看法,胡柏答道"关于开源模式背后的价值,如果我们不使用这些技术词汇和回归的根本原因或开源的价值,我们可以很清楚得看到,大家想要一个基地,然后最重要的是他们需要的是更可控、易于修改扩展和客制化的方法用于他们的特定需求并且可以由自己完成。同时,人们添加或创建的东西可以被再次利用用,并通过社区共享。这比起那些代码行是最关键的一点。ClickPaaS所做的是一种新型的开源,我们提供了一种模型驱动的图形工具,让业务专家可以画出他们自己的业务模型,并将其转换为云本地应用程序,而不需要大量的编码技能。我们是一个低代码开发平台的供应商,帮助公司减少响应时间和复杂业务需求的成本。"
在针对Richard关于利用开源技术抗击新冠疫情的提问时,胡柏也发表了自己的观点,并以ClickPaaS为例做出了具体回答。在第一波新冠疫情中,ClickPaaS将低码平台提供给了公共部门,如上海市政和国际公司。一家业务覆盖全球的公司在一周内建立了他们的疫情管理系统,并在另一周内向全球35个国家推广。并且如我们所见,虽然我们是幸运的是在中国,一切都以惊人的速度恢复,新冠疫情在其他一些国家是越来越危险的并且具备破坏性的,系统的需求随之变化的,同时系统的响应时间是几个小时而不是几天或几周。该系统帮助企业领导对海外员工进行管理,每天在系统中更新员工的出入境记录和居住情况。此外,一旦员工生病,他或她可以立即被送往最近的数据库显示有足够床位和药品的临时医院。所以在这个过程中添加了越来越多的功能、场景。很难想象通过编写代码以旧的方式实现那种敏捷性和能力。这个案例完全证明了我们的平台在这个不断变化的世界中的价值。
同时在有关中国开源技术方面的讨论时,胡柏表示目前还没有很多来自中国的原始开源项目,但在中国,整个开源社区的用户和贡献者还是很多。中央政府和地方政府都在鼓励和支持人们和公司建造越来越有价值的技术。另一件有趣的事情是,随着中国的崛起,中国本身也成为了第三世界发展中国家的首选高等教育目的地。我经常回到我在上海交通大学做研究的实验室,看到越来越多来自不同国家的新面孔。这些学生来中国学习机械、信息和通信技术。这些学生将用他们所学和看到的技术造福他们的祖国。因此,从全球的角度来看,我们在开源方面所做的事情自然会传向那些国家。中国已经成为了一个开放的科技大国,从电子商务到企业软件,在很多方面都是如此。下一波"中国制造"不是向发达国家出口的服装、袜子、玩具,而是向发展中国家出口或转移的无形高科技产品。因此,在这个过程中,开源技术将在中国得到巨大的杠杆作用,并发展得越来越快。越来越多的公司将采用开源技术或提供开源平台。可以预见,在未来的日子里,中国将成为开源社区的另一个主要领导者,并对发展中国家、新兴市场产生巨大影响。当然,中国将成为全球开源社区的另一个主要贡献者。
此次采访不仅会在buzzsprout, iTunes, Spotify上发布,同时也会在英国商会网站、时事通讯等渠道发布。
希望开源技术的发展能够带领中国的技术改革走向新的高度,ClickPaaS在此领域也将会贡献自己的力量,将低代码平台引向更多的企业和组织,为中国的信息化和数字化添砖加瓦,在促进国内技术改革的同时开辟出一片属于中国技术的新天地。
Q1: Tell us about the work of ClickPaaS and how you have seen open source technology commercially applied?
A: First of all, regarding the value behind open source model, If we do not use those technical words and return to the fundamental reason or value of Open Source, we see it very clear that people want something as a base, then on top of that they desire a more controllable, easier to be modified, extended and customized method for their specific needs and done by them-self.
And at the same time what people added or created can be reused, shared through the community. That is the most critical point rather than those lines of codes. What ClickPaaS is doing is the new type of open source, we provide a model-driven, graphic tools to allow business experts to draw their own business models and transfer them into a cloud native application without the burden of demanding coding skill set. We are a provider of low code development platform that helps companies to reduce response times and costs for complex business requirements.
Q2: How are open source technologies being used to combat the Covid-19 pandemic?
A: Let's take our-self as an example, we offer our low-code platform to public sectors like Shanghai Municipal and international companies during the 1st wave CONVID 19. One company which has business coverage all over the world build their pandemic management system within one week and roll out globally for 35 countries in another week.
And all we see, although we are luckily in China as everything is recovering astonishing fast, the pandemic are becoming more and more dangerous and destructive in some other countries, the requirements of the systems are changing along with it and response time for the system is by hours not by days or weeks.
The system helps business leaders to manage workers overseas , the entry and exit records and living situation are updated in the system daily. Also, once some employee get sick, he or she could be sent to the closest temporary hospital immediately which has enough beds and medicine according to the database.
So more and more functions, scenarios are added during the process. It's hard to imagine to achieve that agility, capability in old way by writing codes. That case totally prove the value of our platform in these changing world.
Q3: How is the China open source community and the global open source community connected?
A: Frankly speaking, there are not many original open source projects from China at this moment, but there are numerous users and contributors in China to the whole open source community. Another interesting thing we see as China is rising, China itself becomes a preferred high education destination for 3rd world developing counties, I regularly return to my labs where I did research in Shanghai Jiaotong University and see more and more new faces from different countries. And those students come to China to study mechanics and information, communication technology. Those students will benefit their motherland with the technologies they study and they see. So what we are doing in the open source side will naturally flow into those counties from global point of view.
Q4: Are there aspects unique to China where open source technology is particularly beneficial?
A: As we see, driven by the tech war after the trade war initiated by US, China is for sure to invest more money to the software industry to gain its tech independence, which eventually will benefit the open source community and to the whole world. As I mentioned that because of China has already become a tech giant with open mind in many aspects starting from e-commerce to the enterprise soft-wares. The next wave of Made in China is not the clothes, socks, toys, exporting to the developed countries, but the intangible high-tech exporting or transferring to the developing countries. So during the process, open source technology will be leveraged heavily and grow and evolve faster and faster in China.
Q5: Are there restrictions around open source technology in China?
A: You know what, when I return to China from US in 2015, I found an interesting thing, in technology side, China looks like a more open, free market. There are no restrictions from government side, on the opposite way, both the central government and local government is encouraging, financially supporting people and companies to build more and more valuable technology which actually is using the open source projects. As China is next to the United States economically and technologically, the only way to be free and catch up is to be more open to all the world, embrace all the talents no matter where are they from, embrace tall kinds of technology models in which open source plays a very important role.
Q6: Are open source projects limited by global competition between nations?
A: China is next to the United States at this moment, we see lots of containment from technology side from the USA, the only way to be free with USA technology is to be more open, open to all kinds of technology models. It works for China, works for Europe and the rest of the world.
Q7: What will the future of open source technology in China look like?
A: More and more companies will adopt open source technology or provide open source platforms. I can predict that in the coming days, China will become one of key leader another tech hub in the open source community with huge impact especially in those developing countries, emerging market. And for sure, China will become another major contributors to global open source community.